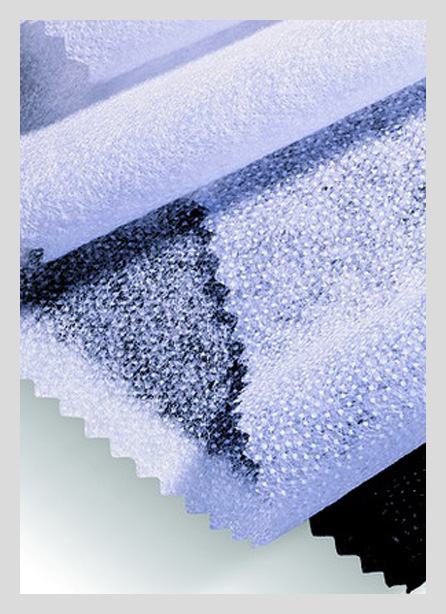 The Hassan Group was established in 1939 in Istanbul, Turkey. With 9 production factories the group has three largest and fastest new lines of the world. Hassan exports to more than 60 countries around the world. Class Interlinings have been endorsed by various garment manufacturers who are producing for GAP, M & S, Zara, Debenhams, Tom Taylor, La Vi, Mango, May Comay, Macy's Jones Apparel Group, Ann Taylor, J.C. Penny etc.
Network
• Exporting to more than 60 countries
• Ready Stock availability in India
• Proximity to manufacturer
• Regional Sales & Service offices across India
Product Range
Class Nonwoven Fusible and Nonfusible Interlinings
• Weight range of 12gr/m2 up to 80 gr/m2
• Width of 90cm, 100cm, 150cm, 180cm and more
• Main colors of White, Charcoal, Black, solid Grey.
• Various Colors available on request.
• Double Dots, Paste Dots, Hot Melt and scatter type of coating.
• Temporary Fuse Interlinings
• Polyester, Polymides, Polypropylene, Viscose fibers & their mixtures
• Special purpose interlinings such
(i) Enzyme and stone wash
(ii) Steam resistant
(iii) High degree wash(90°c)
(iv) Low temperature fuse for leathers (80°c-90°c)
(v) Both Side fusibles
• Under Collar Felts
• Chest Felts
• Shoulder Pad Felts
• Quilting
• Polyester Wadding
• Embroidery Felts
• Needle-punched felts for caps & hats peaks
• Ironing board pads
• Spun bond Nonwoven
Quality
• Quality is the hallmark of Class 4x4
• All Products have achieved Oeko-Tex Standard 100 Certificate and are ISO 9000 accredited.
• Hassan has earned the reputation and has won the hearts of many companies for its relentless pursuit towards quality and perfection
Applications
Fabrics
• Silk
• Jersey
• Knitted Fabric
• Siliconised
• Polyester
• Linen
• Viscose
• Woolen
• Artificial Leather
• Denim
• Velvet
• Chiffon
• Genuine Leather
End Use
• Back Coating of Artificial Leather
• Pyjamas
• Knitwear Shirt
• Dresses & Blouses
• Trousers Overcoats
• Jackets
• Trouser Belt
• Skirt Belt
Washing
• Ironing
• Dry cleaning
• Washing (40°c)
• High Washing(60°c)
• Steam
• Enzyme Wash
• High Enzyme wash(90°c)
• Stone Wash
• Silicon softner